Hello, and thank you for checking out Gameivores, where a bunch of adult nerds get together, and play tabletop rpg's, than upload the fun to you, via pod-cast, and you and your friends can giggle all night at your slumber parties.
I want to start off, by letting you know, that all participants in our sessions, are over the age of eighteen, and as a result, some content may be inappropriate for some people. The sessions are not censored in anyway.






We are first starting off with a zombie survival rpg called, All Flesh Must Be Eaten, created by Eden Studios.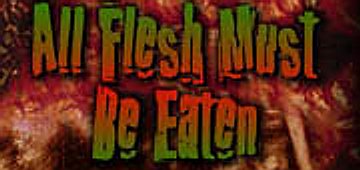 The campaign we are currently running, is a realistic, survival horror. Meaning, food, water, shelter will be an issue. The players are loosely based off of themselves, and as such will act realistically. Guns, and ammo are hard to come by, it is easier, and safer to simply run from an encounter, rather than try to fight them. Damage is high, life points are low, and you are weak. We are currently three sessions in, (these session pod-casts will be uploaded within the next few days, excluding the first session, which will be text.)
A little bit of our immediate future games include, in that respective order.
Gurps
Dungeons And Dragons 5th Edition
Savage Worlds
We are also taking any suggestions that the listeners would like to hear us play. We hope you enjoy the content we will be providing weekly. Videos will be uploaded each Monday, starting January 11th 2015, with episode four. Thank you, and please enjoy.